The 21st Bay Regatta, Phuket
The 21st Bay Regatta, Phuket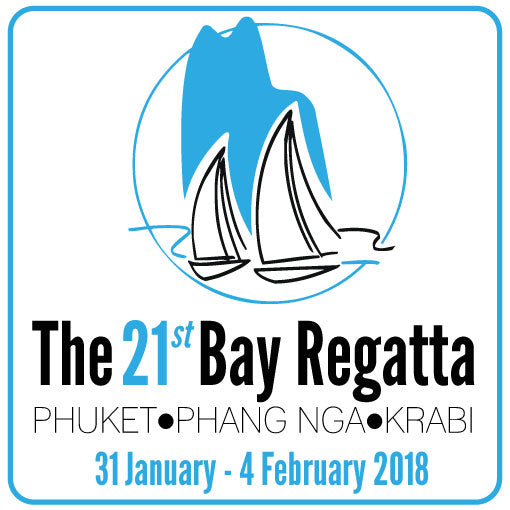 The 21st Bay Regatta, Phuket
Now in its 21st Year, The Bay Regatta takes the fleet from Phuket, through the spectacular scenery of Phang Nga Bay to a new anchorage each evening, holding awards parties in a wide variety of different locations.
The event attracts a range of sailors, from first time racers joining just for the experience of sailing through some of the world's most amazing maritime scenery, to professional racers, who return year after year for the opportunity to race and stay overnight in some fantastic anchorages, which are carefully selected to allow the participants to have the choice to sleep on their boats or ashore at local resorts.
Often billed 'Asia's fun regatta', the hallmark of this event is the casual, fun-filled atmosphere with many families and faces familiar to the Phuket yachting scene returning to the race course, preferring the regattas more relaxed approach to racing for the four-day adventure.
Despite the relaxed atmosphere, yachts are divided into 6 classes based on their designs.
The Bareboat charter class returns in force emphasizing that Phuket remains one of the worlds best yacht charter opportunities with a strong entry from New Zealand, Russia, Hong Kong and Singapore.
Cruising Yachts are split into 2 divisions and see every expanding range of yachts joining to challenge locals, Kevin Gillow and Jim Ellis for the title.
The Multihull class is divided into racing and cruising divisions, with 2 current King's Cup champions, Henry Kaye's Thor and John Newnham's Twin Sharks renewing their battle from 2017.
The cruising fleet challenge is lead by Robert Hossack's Raptor, crewed by regatta legends David Yourrief and Alistair Purves.
The 2018 competition starts on the 31st January with registration and the opening party held at the Chandara Resort and Spa, Ao Po on the North East of Phuket.
East Marine
East Marine sells and distributes world famous brands: Awlgrip, International Yacht Paint, West System, Epifanes, Muir Windlasses, Eno & Force 10 Stoves, Rupes Tools, Aqua Signal, standing rigging products (Sta-Lok, Sea Rig, Sinox, Arcus Wire) and Donaghys ropes with running rigging hardware by Lewmar, Antal, Spinlock, Wichard, and Ronstan.  At the moment, we have more than 32 distribution brands.
Since 2006, East Marine has grown to be the largest yacht chandlery in Southeast Asia, stocks the most extensive range of quality marine products and accessories available. For your convenience, we are situated in Phuket Boat Lagoon Marina, adjacent to our world-famous 'Repair and Refit' Factory and well-stocked rigging department as well as our newly opened exclusive chandlery in Ao Po Grand Marina cater for over 250 yachts with the wide range of products. At East Marine, we are passionate about boats and committed to supplying the highest quality marine equipment and service.